The tropical and mountainous conditions of the Morobe Province, Papua New Guinea presented numerous challenges to the drilling operator, including poor site access on steep terrain, minimal space for drilling operations and overflowing sumps due to heavy rainfall.
AMC SRU™ achieved:
$28,000 net savings per rig per month
sumps no longer required
93% reduction in mud volume
74% reduction in mud costs
96% reduction in mud waste cartage
98% reduction in cuttings volume
* Rental is not included as rates may vary depending on the terms of the contract.
Trial Overview
| | |
| --- | --- |
| Date | April – May 2013 |
| Location | Morobe Province, Papua New Guinea |
| Activity | Exploration – coring |
| Access / drill pads | Small drill pads, nested on the side of hills with limited and challenging access. Conditions were often treacherous due to heavy and frequent rainfall |
| Drill hole information | PQ3 to 400 metres, then NQ3 to 700 metres |
| Mud information | SODA ASH, AUS-GEL, AUS-TROL, PAC-L, BIOCIDE G, EP-BIT LUBE and KLATROL were used. Three sumps were available (approx. 4m x 3m x 2m and 72,000L). One sump was used for storing contaminated mud; the remaining two were used for cleaning and cuttings removal |
| Water | Abundant water supply due to daily rainfall and feeds from river systems |
| Geology | Moderately broken sediments, brecciated siltstone and common siltstone / sandstone/ mudstone |
| Mineral | Gold |
Background
An AMC customer was carrying out exploration coring on privately owned land in the Morobe province of Papua New Guinea (PNG). Operations were challenging due to the tropical and mountainous conditions – access to site, preparation of ground sumps and overflowing sumps caused by heavy and frequent rainfall, were all contributing factors. Other challenges included storage and removal of cuttings from site, core condition and the cost of treating mud.

AMC proposed a trial of its Solids Removal Unit™ (SRU™) to eliminate the need for open ground sumps, reduce mud usage and reduce the volume of cuttings.
Sumpless Technology Eliminated the Need for Sumps
Digging traditional ground sumps is not feasible, or in some cases, is not possible due to the small size of the drill pads and steep terrain in PNG. AMC's SRU™ overcame this challenge by successfully replacing the need for 3 x 24,000L mud sumps.

If the unit had been used from commencement of the project, the size of the site footprint and impact on the environment would have been significantly reduced. The SRU™ also reduces the contamination risk to local water ways and drowning risk to wildlife.
Mud Costs Reduced by $500 per Shift
The customer's mud costs were elevated due to the volume of water in the ground sumps and water losses (approximately 1,500L – 2,500L per shift) caused by the geology downhole. High levels of pyrite were also encountered, which affected mud properties.

Approximately 5,000L of mud was needed (3,000L within the unit and 2,000L of hydrated mud on standby) when using the SRU™, versus some 21,600L when using ground sumps. Mud costs reduced by approximately 74% or AU$500 per shift.

The graphs below illustrate the considerable reduction in mud required when the customer utilised the SRU™.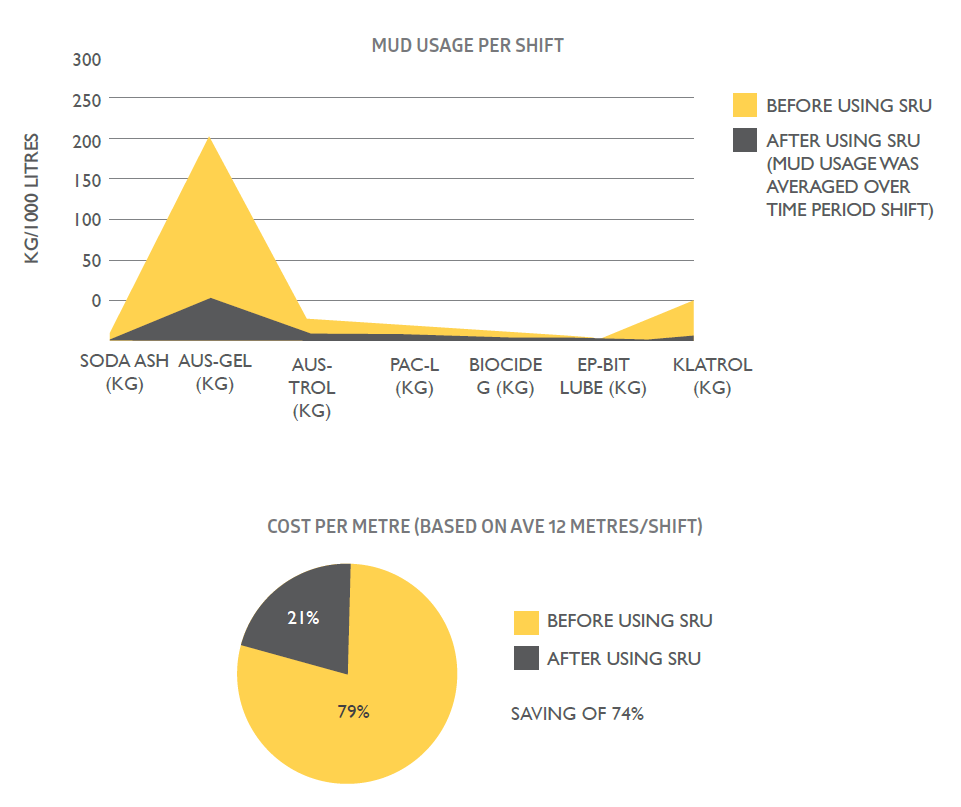 Downhole Water Loss Reduced – Savings of $100 per Rig per Shift
The SRU™ trial rig was losing approximately 1,500L – 2,500L of water per shift, due to the geology downhole.

The trial demonstrated downhole fluid losses were easier to identify when using the SRU™, which enabled the drilling crew to reduce or stop water losses quickly. Reduced water usage achieved a mud savings of at least AU$100 per rig per shift.
Up to 98% Reduction in Cuttings Volume
Large volumes of liquid cuttings were being transported via truck to an earthen sump where they were treated. This process was costly, time consuming and was considered a safety risk due to the conditions.

The SRU™'s unique high speed centrifuge design and closed-loop system removed cuttings efficiently. When 14,000L of mud from the sumps was circulated through the unit, it produced 10 x 25 litre pails of cuttings and reduced cuttings volume by 98% (14,000L to 250L).

The consistency of the cuttings changed from a fluid to a paste, 70% solid and 30% water, reducing the cost and time associated with cartage and disposal.
96% Reduction in Water Cartage
The SRU™ significantly reduced water cartage and associated costs. Assuming an average drilling time of five weeks for an 800 metre hole, water carted would be 90,000 litres. When the SRU™ was used, only 3,000 litres were required.
| | | |
| --- | --- | --- |
| | PER RIG WITHOUT SRU™ | PER RIG WITH SRU™ |
| Mud carting from hole | 18,000L 2 – 3 times per week and 2 – 3 loads | 3,000L (volume capacity at the end of hole) |
Mud Kept at Optimal Conditions
The SRU™ successfully removed solids from the mud and kept it at optimal conditions during the trial. The table below shows mud properties remained consistent - indicating the unit removed undesirable cuttings, yet did not remove polymer.
A good clean mud keeps the bit-face clean and increases the rate of penetration.
Summary of Rheological Properties of Mud
| | | |
| --- | --- | --- |
| | RHEOLOGICAL PROPERTIES OF MUD FROM COLLAR | RHEOLOGICAL PROPERTIES OF CENTRATE FROM SRU™ |
| Viscosity | 35-37 secs | 35-37 secs |
| Rheology 600 rpm (cPs) | 13-17 | 12-19 |
| Rheology 300 rpm (cPs) | 8-10 | 8-12 |
| Plastic viscosity (cPs) | 5-7 | 3-7 |
| Yield point (lb/100ft2) | 2-5 | 1-6 |
| Specific Gravity (SG) | 1.04 – 1.06 | 1.02 – 1.05 |
| Filtrate (ml, 30 min) | 12-16ml | 12-16ml |
| Sand content | 0.25 – 0.75% | Nil |
Reduced Wear and Tear
Clean mud in good rheological condition is essential for the successful completion of a drill hole and to minimise the wear on drill bits and other drilling equipment.. The SRU™'s closed-loop system kept the mud clean, resulting in a cleaner back end assembly and less wear and tear to drill components.
Clean Core Achieved
Before the trial, geologists reported the core was covered in silt and was difficult to clean after retrieval. After using the SRU™, core retrieved directly from the core barrel was clean and free of particles and silt.
Project Outcome
AMC's SRU™ successfully replaced the need for 3 x 24,000L sumps during the trial, reduced mud usage by 93% and reduced the volume of cuttings by 98%. The trial also demonstrated considerable environmental and economic benefits for the customer – estimated to be a net saving of $28,000 per rig per month.
The trial demonstrated SRU™'s have the ability to replace the need for traditional mud sumps, which significantly reduces the site footprint and impact on the environment. Without sumps, the risk of spills and leakage during heavy rainfall, causing contamination to the local environment and waterways was minimised. Such an outcome is vital when drilling on private or environmentally sensitive land or difficult terrain such as experienced with this project.
The logistical costs and challenges associated with transporting high levels of consumables and waste in steep and treacherous terrain was significantly reduced when using the SRU™.
The trail also demonstrated savings to the operator including reduced equipment wear and tear and rig downtime due to maintenance as a result of the mud being kept in optimal condition during drilling operation.
For more details on this successful project, contact [email protected]
Key Benefits for Drilling Company
Reduced water consumption and cartage costs
Reduced mud usage and associated costs
Reduced slurry volume, waste cartage and disposal
Identification of lost circulation quickly for immediate action
Reduced wear and tear on drill components
Reduced logistical costs and related risks
Improved on-site health and safety, reducing slips and hazards due to mess, mud and water.
Key Benefits for Resource Company
Increased drilling productivityŠ
Reduced project costs, including water consumption and mud usage, and associated costs
Minimised environmental contamination risk
Drilling programs can expand to previously inaccessible areas
Facilitated access to environmentally sensitive or remote drill sites
Improved productivity extended drill program, additional 15 holes completed in project time frame
Improved relationships with private land owners.